The "most famous two minutes in sports" has enjoyed public attention and success for well over one hundred years. But as famous as it is, many people are unaware of its link to one of Louisville's most famous families – the Clarks.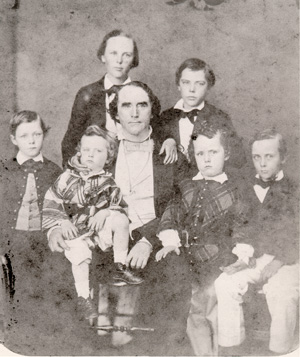 The Clarks loom large in Louisville, Kentucky, and United States history. George Rogers Clark was the founder of Louisville and a Revolutionary War hero, earning the sobriquet "Hannibal of the West." Younger brother William was co-leader of the Lewis and Clark Expedition.
The Clarks had a passion for horses dating to two hundred years ago. The eldest of the Clark siblings, Jonathan, recorded attending horse races in Virginia and Kentucky. At his plantation near Louisville he stood horses to stud.
Brother William Clark was similarly interested in the noble breed. He had been around horses his whole life and also enjoyed watching a good race. Papers left by both brothers reveal that they named their horses and took great interest in them. Three years on their "western tour" no doubt gave William and his partner in discovery, Meriwether Lewis, a greater appreciation for horses. They knew they would not have reached the Pacific Ocean if it were not for horses to carry them and their supplies over the Rocky Mountains – not once, but twice. Horses were to their world what automobiles are to ours.
The direct link to the Kentucky Derby comes through William Clark. His love of horses was passed on to his son, Meriwether Lewis Clark. In a family genealogy compiled in the 1850s, Lewis (as he was called) Clark listed the horses he owned. Twenty-five horses are listed, most of them named. Names such as Bolivar, Saladin, Palestine, Troubadour and Hector, along with more common names such as Sally, Tom, Charley and Old Joe, appear on the list. Also listed are the years they were foaled, how they were obtained, what they were used for, their color and markings, pedigree, and where they were raised. Bolivar heads the list. He was foaled in 1826 and presented to Lewis by his father. Bolivar was a blood bay raised in Clay County, Missouri.
Although William and his family lived in St. Louis at this time, their horses came from a number of states. Kentucky, Missouri, Illinois, Virginia, New York, Pennsylvania and New Jersey are all listed as places where Lewis Clark's horses were raised. He purchased six of his horses for use during the Mexican War.
Just as the Clarks charted horse bloodlines, we can, in turn, chart the Clark family's bloodlines. Lewis's son, Meriwether Lewis Clark, Jr., was born in Louisville in 1846, lived for a time in St. Louis, then back moved to Louisville following his mother's death in 1852 and was raised by his maternal uncles John and Henry Churchill. Racing was also a passion with the Churchill family, so young Lewis (as he, too, was called) had horses in both his bloodlines. His grandfather, Samuel Churchill, was one of the founders and first president of the Oakland Race Course in Louisville in the 1830s.
Meriwether Lewis Clark, Jr., himself had no known racing interest until 1872 when a group of horse breeders, concerned with the decline of horse racing in Louisville, approached him with a plan to save it. Young Lewis took on the challenge and went to Europe to study racing there. When he returned in 1873 he outlined a plan for a series of races, with the most prestigious purse and quality of horses being the "Kentucky Derby." The plan was adopted, the Louisville Jockey Club was formed, and a
track and grandstand were erected on Churchill-owned land south of town. In 1875, the first Kentucky Derby was run and has been run every year since.
From colonial days in Virginia to the Kentucky frontier, Missouri, Mexico, and eventually back to Kentucky, over three generations and one hundred years, one family's passion for horses and watching them thunder around the track led to one of the most recognizable symbols in horseracing and sports – the Twin Spires of Churchill Downs – and the most famous horserace in the world. The Clark family and the Kentucky Derby are forever joined.